VITAMIN B₃
B-vitamins are involved in all phases of energy production in our metabolism. But whilst their effects overlap and supplement each other In the process, they have very special tasks to complete in the body.
VITAMIN B₃ is assigned to the watersoluble B-complex and is also known under the name of niacin / niacinamide or nicotinic acid. It is found in all cells of the body, but it has the maximum occurrence in fatty tissues, kidneys or liver.
BENEFITS FOR THE SKIN
As far the skin is concerned, VITAMIN B₃ is a true beauty all-rounder, since, among others, it strengthens the skin protection barrier and promotes the production of collagen and thus ensures resilient and healthy skin. In addition, the vitamin is actively involved in energy metabolism of the cells and contributes, based on its antioxidant effect, towards reducing cell damage caused by free radicals. In particular, VITAMIN B₃ is used in the fight against acne and skin impurities, since it has a strong antiinflammatory and antibacterial effect. 
ANTI-INFLAMMATORY | SKIN-STRENGTHENING | CLEARING | REGENERATING
CONTAINED IN: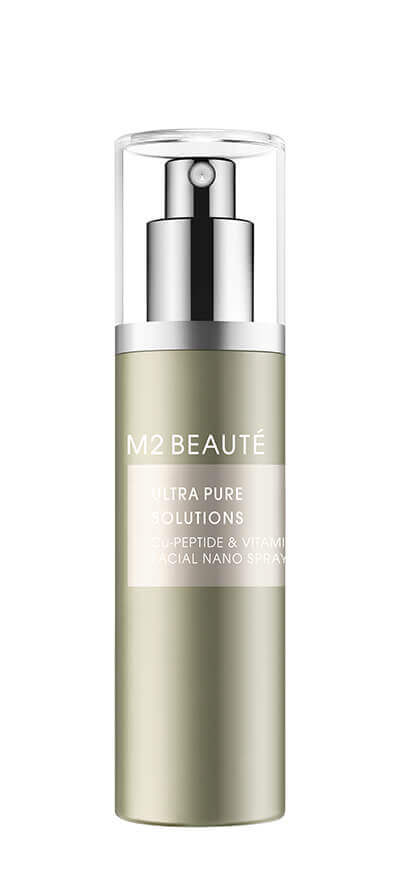 ULTRA PURE SOLUTIONS Cu-PEPTIDE & VITAMIN B FACIAL NANO SPRAY
The ULTRA PURE SOLUTIONS Cu-PEPTIDE & VITAMIN B FACIAL NANO SPRAY guarantees to give you vibrant, radiantly beautiful skin. The products unique active ingredient complex containing highly effective B2, B3 and B6 vitamins and copper peptides speeds up the skin's natural metabolism. The spray also improves the skin's natural protection and stimulates collagen and elastin production. The patented intelligent delivery system transports the nanorized and highly concentrated copper peptides and B2, B3 and B6 vitamins to the deepest layers of the dermis. The innovative spray nozzle allows the product to be precisely applied to the skin with ultra-pure water. The extraordinary result: An even and vibrantly youthful complexion.