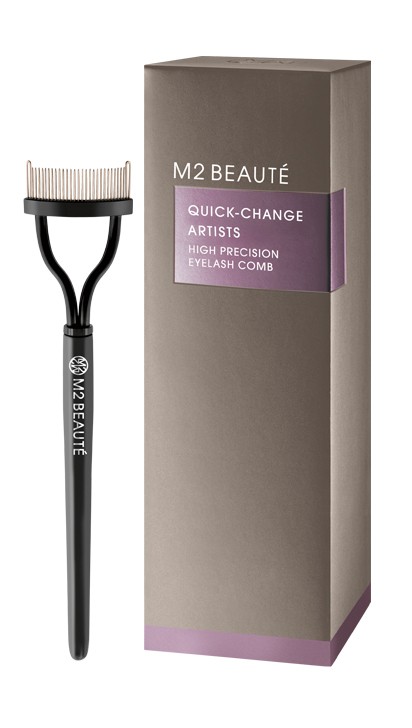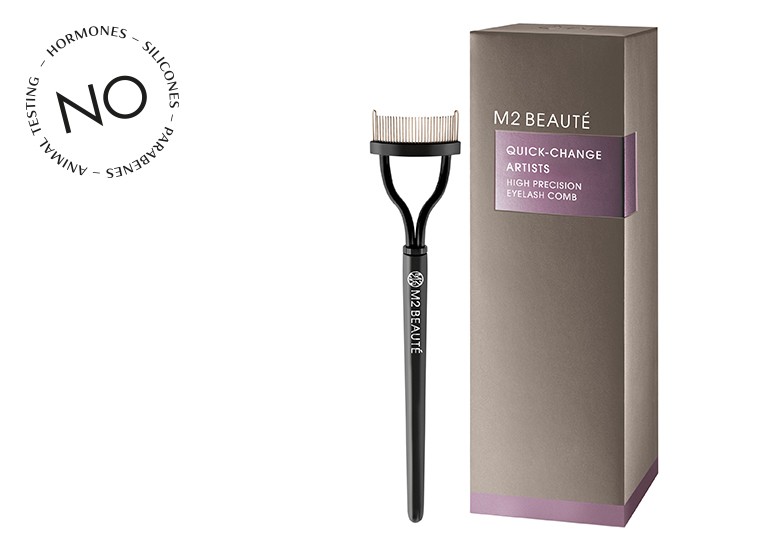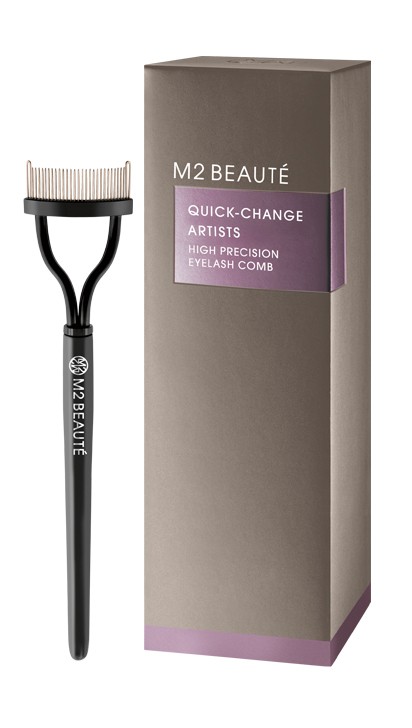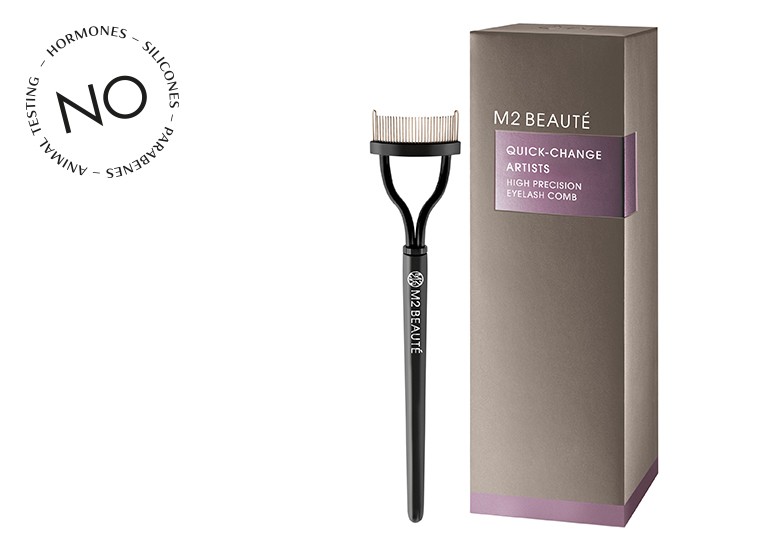 QUICK CHANGE ARTISTS EYELASH COMB
Professional eyelash styling in an instant: The innovative eyelash comb from M2 BEAUTÉ provides a striking effect and gives your appearance that certain je ne sais quoi. Precision-manufactured and impressive in design and function, this eyelash comb is an essential tool to add the perfect finishing touch for dazzlingly beautiful and beguilingly natural eyes. An absolute must-have for your personal eye styling kit.
Surprisingly simple and impressively effective: Not only does the ergonomic design and elegant, specially developed handle of the eyelash comb fit perfectly and comfortably in your hand, but its rounded steel teeth give you perfect, professionally styled lashes. As a result, mascara and the Eyezone Conditioning Care Complex (ECCC)) can be evenly applied exactly where you want along your lashes, separating them at the same time.
HIGH PRECISION EYELASH COMB
PRÄZENSTIONS WIMPERNKAMM
---
Präzise Separation + 100 %
Perfekte Definition + 100 %
Formvollendetes Styling
Professionelles Wimpern-Styling im Handumdrehen.
EYELASH COMB - FAQs
---
Would you like to know more about our innovative products? You are absolutely right here!
We have compiled and answered the most frequently asked questions for you.
Thanks to the specially developed ergonomic and elegant design of the handle, which is made of high-quality plastic, and the rounded stainless steel tines of the comb, eyelashes can be shaped easily and absolutely evenly.
Eye styling on a whole new level! The Eyelash Comb provides the perfect elegant curl of the eyelashes and thus for a perfect finish of naturally beautiful eyes.
The Eyelash Comb is an eyelash comb that perfects the separation and effect of each eyelash. It is a complementary and effective must-have accessory.
The eyelash comb is used after applying and drying mascara and Eyezone Conditioning Care Complex (ECCC).
The lash comb is guided through the lash line from the bottom up. The ergonomically shaped handle ensures comfortable, easy and effective handling.

EYELASH AWAKENING SERUM
Gentle growth and care – the EYELASH AWAKENING SERUM makes lashes up to 30% longer and thicker and up to 50% stronger in just six to eight weeks. The balanced formula containing bioplacenta and AWAKENING complex strengthens the hair root, improves the elasticity of the fine eyelash hairs and gives a natural shine. Perfect for your daily beauty routine and an authentically beautiful look. The result is impressively beautiful, stronger lashes.

EYELASH ACTIVATING SERUM
The revolutionary EYELASH ACTIVATING SERUM from M2 BEAUTÉ makes your eyelashes longer and thicker, it achieves eyelash growth of almost 50%! Combined with nourishing components, the highly effective complex of active ingredients strengthens and stimulates both the active and inactive hair roots in the eyelashes, which is proven to encourage their natural growth. The result: even more beautiful and impressive eyelashes.

EYEZONE CONDITIONING CARE COMPLEX
For longer, beautifully shaped, shiny and healthy lashes and eyebrows! The highly effective EYEZONE CONDITIONING CARE COMPLEX for eyelashes and eyebrows has a threefold effect - the effective serum supports hair growth while providing care and styling! With its highly effective combination of peptide complexes and the active ingredients of the acai berries, the effective serum gives you healthy, shining, sleek and strong lashes and eyebrows. What's more, the active ingredient of acai berries makes them stronger, providing a form of natural protection. The result: Increased growth and up to an average of 50% stronger eyelashes and brows after only 6 to 8 weeks.