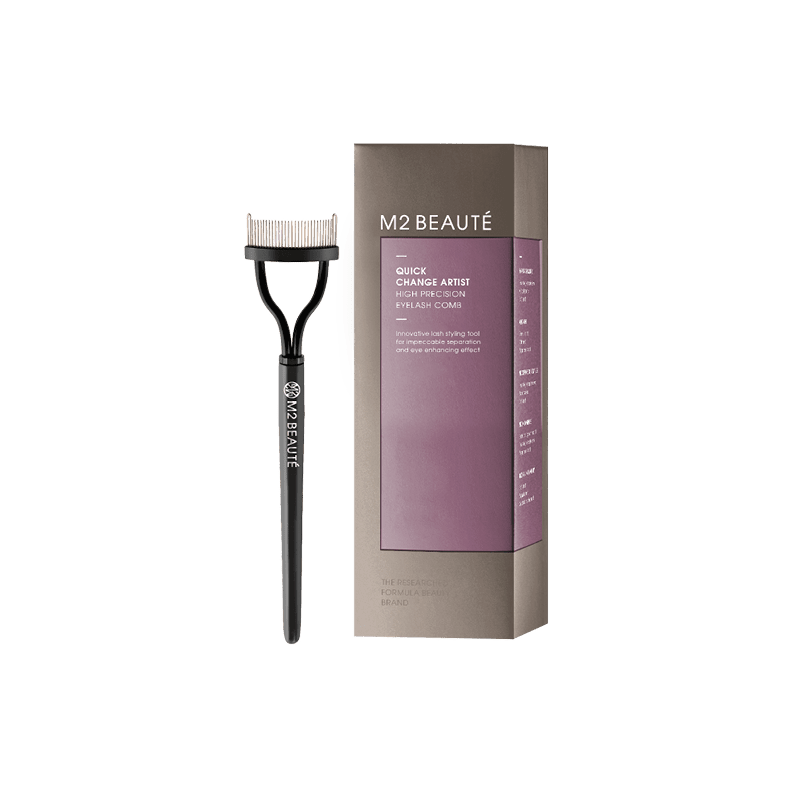 EYE CARE
QUICK CHANGE ARTIST
The Lash Refiner
The innovative HIGH PRECISION EYELASH COMB is an indispensable tool for a perfectly shaped finish and radiantly beautiful, beguilingly natural eyes.
Product description
Professional eyelash styling in no time at all: The innovative eyelash comb from M2 BEAUTÉ sets effective accents and gives your appearance that certain something. Precision-made and convincing in design and function. The must-have for your very personal eyestyling equipment.

Surprisingly simple and impressively effective: Not only does the ergonomic design and elegant, specially developed handle of the eyelash comb fit perfectly and comfortably in your hand, but its rounded steel teeth give you perfect, professionally styled lashes. As a result, mascara and the Eyezone Conditioning Care Complex (ECCC)) can be evenly applied exactly where you want along your lashes, separating them at the same time.
The HIGH PRECISION EYELASH COMB is your must-have for a perfectly shaped finish.

Precise separation
Perfect definition
Perfectly shaped styling
Surprisingly simple, convincingly effective: Thanks to its ergonomic design, the elegant, specially developed handle of the eyelash comb lies perfectly and comfortably in the hand. Its rounded steel tines ensure professionally shaped lashes to perfection. In this way, mascara and the Eyezone Conditioning Care Complex are applied specifically and evenly along the lash line and the lashes are separated at the same time.
Rounded stainless steel prongs guarantee safe and compatible use (All skin types, including those allergic to nickel).
FAQs
Would you like to know more about our innovative products? You are absolutely right here!
We have compiled and answered the most frequently asked questions for you.
Thanks to the specially developed ergonomic and elegant design of the handle, which is made of high-quality plastic, and the rounded stainless steel tines of the comb, eyelashes can be shaped easily and absolutely evenly.
Eye styling on a whole new level! The Eyelash Comb provides the perfect elegant curl of the eyelashes and thus for a perfect finish of naturally beautiful eyes.
The Eyelash Comb is an eyelash comb that perfects the separation and effect of each eyelash. It is a complementary and effective must-have accessory.
The eyelash comb is used after applying and drying mascara and Eyezone Conditioning Care Complex (ECCC).
The lash comb is guided through the lash line from the bottom up. The ergonomically shaped handle ensures comfortable, easy and effective handling.
Our promise
No Parabenes
Choosing beauty products without parabens means avoiding potentially harmful preservatives. Keep your skin and health safe with paraben-free options!
No hormones
Entscheiden Sie sich für M2 Beauté, wenn Sie hormonfreie, sichere und wirksame Produkte suchen, die nachweislich das natürliche Gleichgewicht Ihrer Haut und Haare bewahren.
No silicone
Say goodbye to harmful additives and benefit from effective ingredients that nourish, protect and rejuvenate skin and hair with our silicone-free products.
No animal-testing
Bei M2 BEAUTÉ werden keine Produkte an Tieren getestet. Wir vertrauen auf tierversuchsfreie und innovative Methoden, um die höchste Qualität und Wirksamkeit unserer Produkte zu gewährleisten.