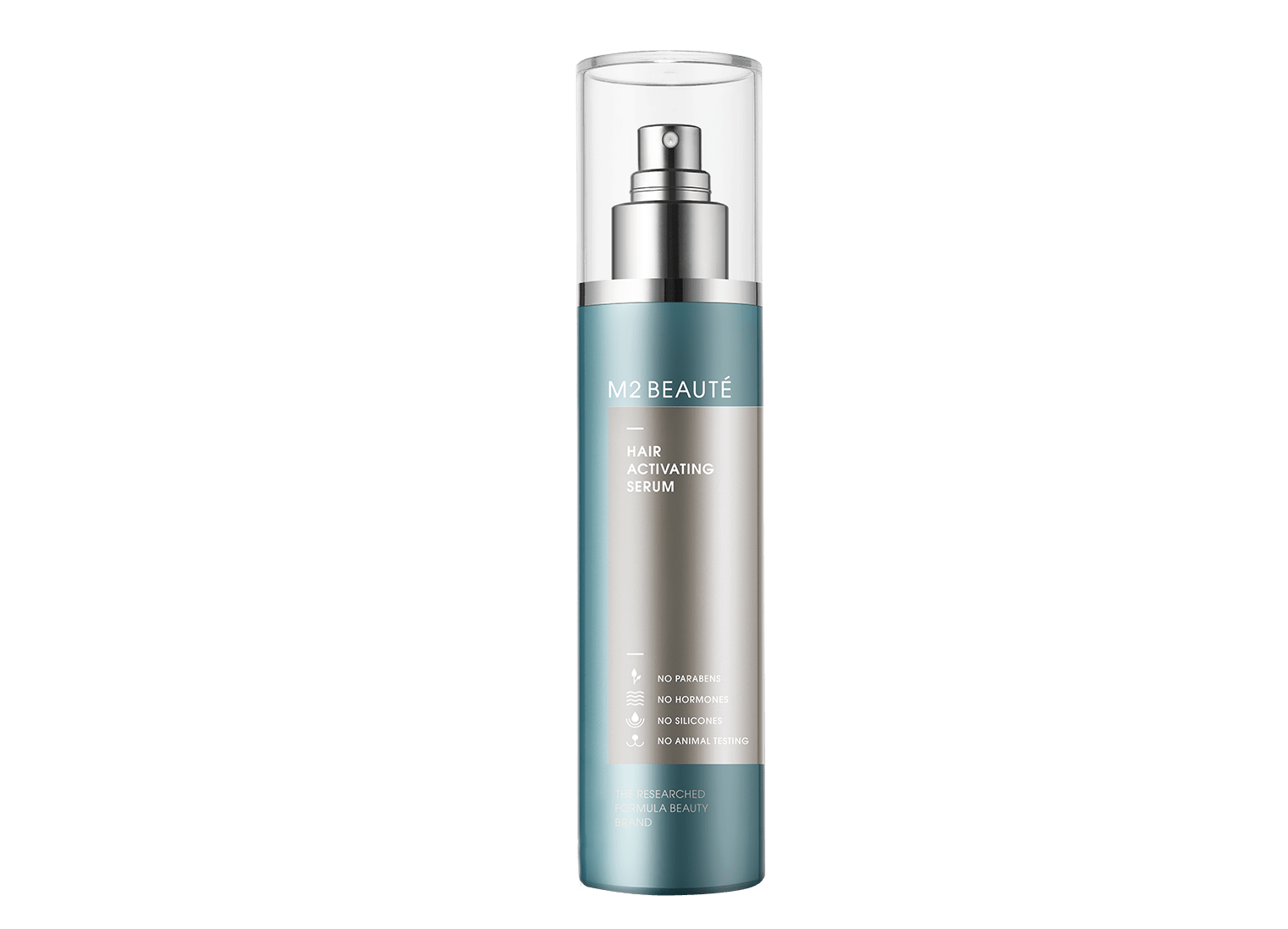 HAIR CARE
HAIR ACTIVATING SERUM
The Hair Booster
The M2 Beauté HAIR ACTIVATING SERUM is an innovative, highly effective activating serum that promotes hair growth and thickness. The serum is applied once a day to the root of the hair. For long think and naturally beautiful hair.
Product description
The HAIR ACTIVATING SERUM is an innovative, highly effective active serum that promotes hair growth as well as hair density. For long, thick and naturally beautiful hair in just 10 to 12 weeks.

Proven effect after only 10 to 12 weeks*:
1st phase: Revitalized scalp - 93 % improved hair quality - less dandruff
2nd phase: Less hair loss - 98% less hair loss, strengthened hair roots - thicker hair
3rd phase: More hair - 50% faster growth - 86% new growth
*M2 BEAUtÉ study, self-assessment test after 8 to 12 weeks of use

HAIR ACTIVATING SERUM is your power hair serum for the ultimate growth boost.
86% stronther growth
96% less hair loss
92% thicker hair


Part your hair and spray the HAIR ACTIVATING SERUM evenly once a day onto clean, towel-dried roots at a distance of a few centimeters. Afterwards, gently massage the serum into the scalp using your fingertips. Allow the serum to absorb for a few minutes before styling your hair as usual. The serum can be applied all over the roots or just to some sections. The serum can be applied over the entire surface or partially. If you are allergic to any of the ingredients, please discontinue use.
AQUA (WATER), ALCOHOL DENAT., PROPANEDIOL, DIMETHYL ISOSORBIDE, PENTYLENE GLYCOL, DIMETHYL SULFONE, PANTHENYL ETHYL ETHER, PANTHENOL, INOSITOL, CAFFEINE, POLYGLYCERYL-4 CAPRATE, SODIUM PCA, LACTIS PROTEINUM (MILK PROTEIN), HYDROXYACETOPHENONE, SORBITAN OLEATE DECYLGLUCOSIDE CROSSPOLYMER, ARGININE, SODIUM LACTATE, GLYCERIN, SODIUM CITRATE, LACTOSE, ACETYL METHIONINE, ACETYL CYSTEINE, ASPARTIC ACID, MENTHOL, PCA, PARFUM (FRAGRANCE), GLYCINE, ALANINE, SERINE, VALINE, SODIUM CHLORIDE, BIOTINYL TRIPEPTIDE-1, PHENOXYETHANOL, SODIUM DEHYDROACETATE, CITRIC ACID, CITRAL, THREONINE, PROLINE, ISOLEUCINE, LIMONENE, PHENYLALANINE, HISTIDINE
FAQs
Would you like to know more about our innovative products? You are absolutely right here!
We have compiled and answered the most frequently asked questions for you.
We can guarantee that the HAIR ACTIVATING SERUM does not contain any hormones! The serum cannot interact with cells containing corresponding receptor structures either, which means that the triggering of hormonal reactions is out of the question. This was confirmed by independent institutes, including the German Federation for the Environment and Nature Conservation and their TOXFOX study on hormonally active substances in cosmetic products.
Use once a day for best results. If application is discontinued or interrupted for a long period of time, hair quality will eventually return to its normal condition. It is recommended that you wash your hair or brush thoroughly to remove any styling product residue or other buildup from your scalp before use. You need to make sure that the active ingredients will get through to the hair roots.
Users notice a significant change as early as within 10 to 12 weeks. The first effect you will tend to notice is that the scalp becomes stronger and you have less dandruff. Then you will start to notice a visible reduction in hair loss and an increase in hair thickness and new hair growth. However, the initial results are different for each individual.
The two-year to six-year lifespan of hair is divided into the growth phase (anagen), transition phase (catagen), and resting and hair loss phase (telogen). The highly potent active ingredient complex acts during the first phase to intensely stimulate hair roots, while hair loss is simultaneously reduced. Hairs become significantly thicker and longer. The high-quality care components strengthen the scalp and reduce the formation of dandruff.
The HAIR ACTIVATING SERUM can be used irrespective of whether you dye your hair or not. It does not influence the quality of the color and does not contain any silicones or mineral oils that may impede the hair from absorbing the dye.
The longevity of the product depends on the area being treated in each individual case. If used correctly and applied to the whole scalp (once a day, approximately ten squeezes of the pump), a 120 ml spray bottle of the HAIR ACTIVATING SERUM, for example, should last for up to two months.
There is some evidence that the serum can be used after a hair transplant. After the procedure, hairs generally tend to be thinner in the first growth phase. The HAIR ACTIVATING SERUM strengthens the hair root, promotes growth and reduces excess hair loss. Regular use significantly improves hair quality. Tolerability is a hugely important factor here. The HAIR ACTIVATING SERUM has successfully passed dermatological tests.
Once opened, the HAIR ACTIVATING SERUM should be used up within six months. If unopened, the product can last for at least five years.
M2 BEAUTÉ has been a leader in the hair growth sector for many years. The proven effects of its products are a testament to the expertise that has gone into their development. On the one hand, the products stand out with their unique and highly effective formulation, which focuses on effectiveness and tolerability. On the other hand, users like the fact that the company deliberately avoids the use of hormones, parabens, silicones, petroleum products, synthetic dyes and fragrances, PEG-containing substances and animal testing, not to mention the fact that the serum is just as effective for men as it is for women.
Depending on your genetic predisposition or the state of your health, hair root activity will eventually return to its original condition.
Our promise
No Parabenes
Choosing beauty products without parabens means avoiding potentially harmful preservatives. Keep your skin and health safe with paraben-free options!
No hormones
Entscheiden Sie sich für M2 Beauté, wenn Sie hormonfreie, sichere und wirksame Produkte suchen, die nachweislich das natürliche Gleichgewicht Ihrer Haut und Haare bewahren.
No silicone
Say goodbye to harmful additives and benefit from effective ingredients that nourish, protect and rejuvenate skin and hair with our silicone-free products.
No animal-testing
Bei M2 BEAUTÉ werden keine Produkte an Tieren getestet. Wir vertrauen auf tierversuchsfreie und innovative Methoden, um die höchste Qualität und Wirksamkeit unserer Produkte zu gewährleisten.