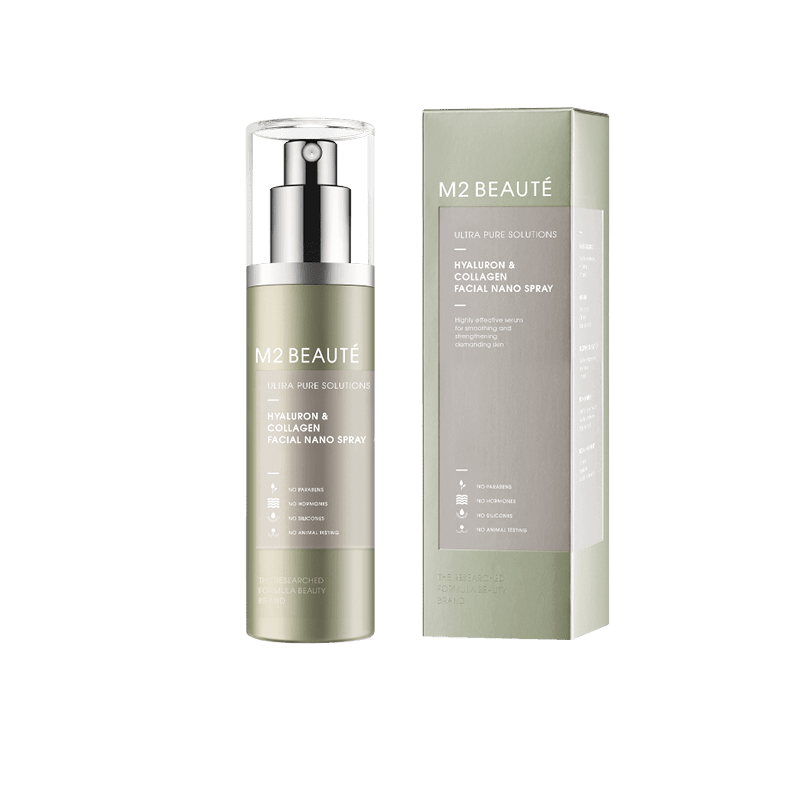 FACIAL CARE
HYALURON & COLLAGEN FACIAL NANO SPRAY
The Skin Revitalizer
The FACIAL NANO SPRAY HYALURON and
COLLAGEN
of the ULTRA PURE SOLUTIONS line revitalizes particularly demanding skin and restores its youthful elasticity and firmness.
Product description
The Skin Revitalizer by M2 BEAUTÉ: Hyaluron and Collagen smooth and bind a maximum of moisture and stimulate the regeneration process of the skin cells.

The highly potent active ingredients, compressed by nanotechnology, can penetrate even into deeper layers of the skin and act there in a targeted manner. The result: For supple, soft skin as if plumped up and a visibly rejuvenated appearance.

Care harmonies: An aroma of sweet orange, grapefruit, rosewood and jasmine relaxes the skin and promotes a sense of well-being.
Perfectly suited for dehydrated skin with lines and wrinkles. Revitalizes and gives structure and volume to the skin. Significantly increases the moisture level of the skin.

The test results of a clinical study over eight weeks speak for themselves:
67% of all test subjects noted that their skin became firmer
75 % of all test persons stated that their skin appeared healthier
68% of all test persons noticed that their skin became plumper
FACIAL NANO SPRAY is used twice a day. The serum is sprayed onto cleansed skin in the morning and evening from a distance of 15 - 20 cm with 3 - 5 strokes. Afterwards, additional care products can be applied.
Tip: For extra care, the active ingredient serum can also be used over make-up during the day thanks to the extremely fine spray.
AQUA, LECITHIN, CITRUS SINENSIS PEEL OIL EXPRESSED, CITRUS PARADISI PEEL OIL, LIMONENE, POTASSIUM SORBATE, ANIBA ROSAEODORA WOOD OIL, LINALOOL, OLEA EUROPAEA FRUIT OIL, JASMINUM GRANDIFLORUM FLOWER WAX, CITRIC ACID, SALICYLIC ACID, TETRASODIUM EDTA, CHOLESTEROL, ELASTIN, COLLAGEN, RETINYL ACETATE, HYALURONIC ACID, RESVERATROL
FAQs
Would you like to know more about our innovative products? You are absolutely right here!
We have compiled and answered the most frequently asked questions for you.
Our FACIAL NANO SPRAYS are highly effective serums that have been perfectly tailored to the particular needs of facial skin. The micro-fine textures form a virtually weightless layer on your skin that has a targeted effect.
The innovative skincare serums offer a range of benefits:
1. The highly effective formula is free from alcohol, petrochemicals, parabens, PEG-containing substances and more, and is designed to achieve maximum results with optimal wearability.
2. The concentrated active ingredients are nanorized (scaled down) and, thanks to the patented SKIN DELIVERY SYSTEM, penetrate the deepest layers of your skin in a fast-acting, reliable and targeted way.
3. The biological availability of the active ingredients optimizes your skin's regeneration processes and functions.
4. The precision sprayer applies the active ingredients to your skin in an ultra-fine and weightless mist. The serums are thus 100% effective, and are both refreshing and hygienic to apply.
5. The serums function using an alkaline active ingredient solution and are non-greasy. This means that fantastic skincare results can be achieved on every skin type, even sensitive and irritated skin.
To achieve optimum effectiveness, spray our FACIAL NANO SPRAYS onto clean skin twice daily. Thanks to their extremely fine spray mist, the sprays can also be applied over make-up over the course of the day for an extra bit of care.
The serums can be combined with every line of skincare products and it is best to apply them as the first step after facial cleansing. Spray three to five pumps at a distance of around 15 cm. If your skin requires an extra bit of care over the course of the day, the serums can even be sprayed over make-up in a nourishing and weightless mist.
Depending on the unique needs of your skin, the four FACIAL NANO SPRAYS can also be used in combination. The sprays are suitable for both women and men.
We set the highest standards for effectiveness and wearability. The FACIAL NANO SPRAYS are dermatologically tested and comply with the guidelines of the EU Cosmetics Directive. Comprehensive effectiveness and wearability studies confirm their effectiveness and excellent wearability. The serums were rated "very good" by the independent institute DERMATEST.
We believe that animal testing is an unnecessary testing method that does not have a place in the 21st century. M2 BEAUTÉ uses scientific research techniques that do not test on animals. From one year to the next, cutting-edge in vivo and in vitro methods are also providing improved alternatives, allowing us to achieve significant progress.
Our testers* report impressive results after just six weeks.
Our promise
No Parabenes
Choosing beauty products without parabens means avoiding potentially harmful preservatives. Keep your skin and health safe with paraben-free options!
No hormones
Entscheiden Sie sich für M2 Beauté, wenn Sie hormonfreie, sichere und wirksame Produkte suchen, die nachweislich das natürliche Gleichgewicht Ihrer Haut und Haare bewahren.
No silicone
Say goodbye to harmful additives and benefit from effective ingredients that nourish, protect and rejuvenate skin and hair with our silicone-free products.
No animal-testing
Bei M2 BEAUTÉ werden keine Produkte an Tieren getestet. Wir vertrauen auf tierversuchsfreie und innovative Methoden, um die höchste Qualität und Wirksamkeit unserer Produkte zu gewährleisten.