VITAMIN B₂
B-vitamins are among the water-soluble vitamin complexes and cannot be stored by the body in most cases. Hence, humans are dependent on regular consumption of the vitamin.
VITAMIN B₂ (Riboflavin) is also known as the growth vitamin, since it plays an elementary role for all the body's own processes, which are associated with growth and development – among others, this also concerns the hair and skin. As a vitamin, it forms the preliminary stage to coenzymes, which are indispensable for numerous metabolic processes in the body. This includes, among others, protein metabolism as well as the metabolism of fatty acids, glucose and the entire vitamin B complex.
BENEFITS FOR THE SKIN
An adequate supply of VITAMIN B₂ ensures healthy and resistant skin cells. Riboflavin is an important constituent of the antioxidant network and regulates cell renewal, among others. As a result of accelerating healing of wounds, it also supports the healing process of fresh scars and skin impurities. The body reacts to a deficiency of VITAMIN B₂, among others, with a disturbed skin protection barrier and the negative effects on the skin associated with it.
REGENERATING | STIMULATING SKIN METABOLISM | REINFORCING | ACTIVATING
CONTAINED IN: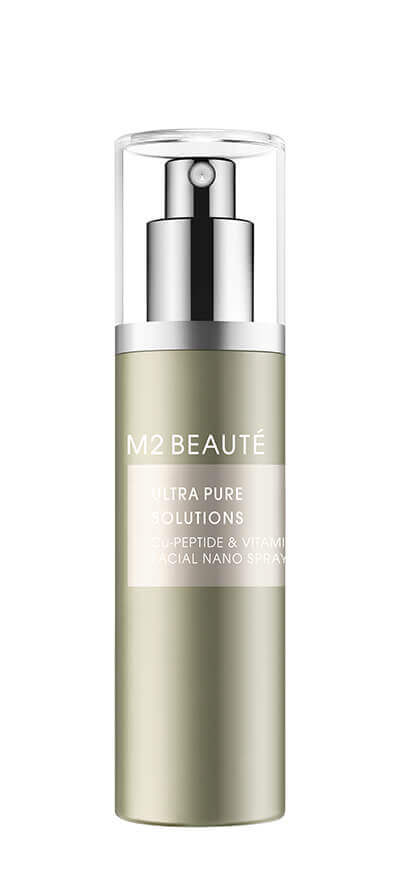 ULTRA PURE SOLUTIONS Cu-PEPTIDE & VITAMIN B FACIAL NANO SPRAY
The ULTRA PURE SOLUTIONS Cu-PEPTIDE & VITAMIN B FACIAL NANO SPRAY guarantees to give you vibrant, radiantly beautiful skin. The products unique active ingredient complex containing highly effective B2, B3 and B6 vitamins and copper peptides speeds up the skin's natural metabolism. The spray also improves the skin's natural protection and stimulates collagen and elastin production. The patented intelligent delivery system transports the nanorized and highly concentrated copper peptides and B2, B3 and B6 vitamins to the deepest layers of the dermis. The innovative spray nozzle allows the product to be precisely applied to the skin with ultra-pure water. The extraordinary result: An even and vibrantly youthful complexion.