THE HAIR ACTIVATING SERUM NOW WITH COOL FASHION SCRUNCHIE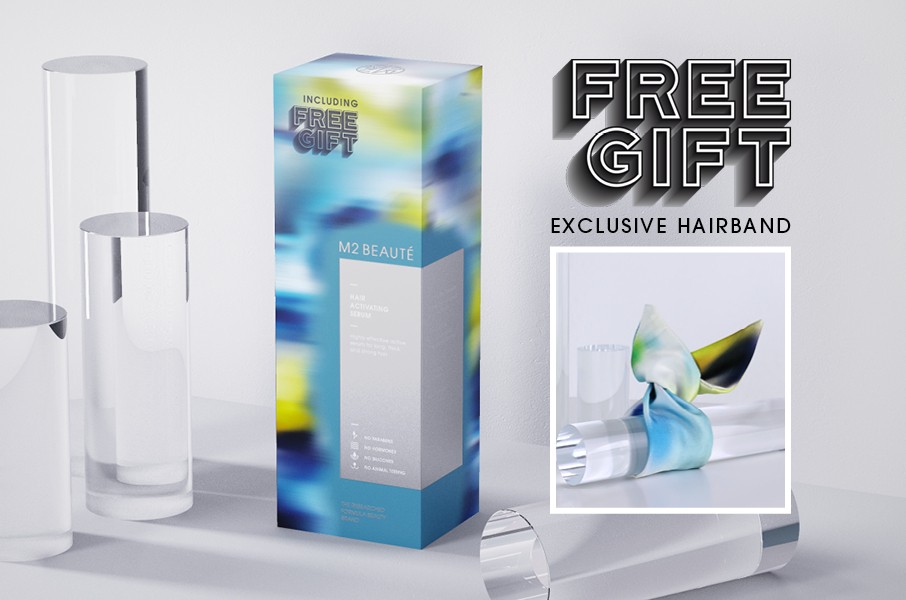 Colorful bandanas, big hair clips, glittering barrettes, voluminous hair elastics - in spring/summer 2022 nothing goes without hair accessories. Especially on trend: spectacular scrunchies in the trendy 90s style. Whether made of shimmering velvet, noble leather or colorful fabric - the trendy scrunchies transform simple stylings into cool trend hairstyles.
The basis for any new look is strong, healthy hair. To be able to recreate the latest hairstyle trends, there is now a new dream team: our revolutionary HAIR ACTIVATING SERUM in a set with a trendy XXL Scrunchie. A real power duo for naturally beautiful, perfectly styled hair!
HAIR ACTIVATING SERUM transforms thin, weak hair into a real dream mane within a very short time and guarantees
30 percent new growth
in
just 12 weeks
. It promotes both hair growth and hair density by up to an average of 50 percent. At the same time, it prolongs the hair growth phase and delays hair loss.
The result:
strong, healthy, vibrant hair. The optimal prerequisite for all the trendy hairstyles of the season!
The best:
For perfect styling, the highly effective active serum is now available in a trendy fashion bundle with an exclusive hair band. The high-quality XXL scrunchie with colorful print gives every ponytail a trendy look and sets cool accents. Our styling tip: Wrap the hair tie around an extra-high chignon. Exudes real 90s flair and goes super fast!
Weitere News
M2 BEAUTÉ WINS AWARD FOR "MEN'S PRODUCT OF THE YEAR 2021"

THE HAIR ACTIVATING SERUM HAS BEEN AWARDED AS THE BEST MEN'S PRODUCT OF THE YEAR 2021 AND HAS BEATEN NUMEROUS INTERNATIONAL COMPETITORS.

weiterlesen

LIMITED SUMMER EDITION OF THE EYELASH ACTIVATING SERUM WITH A FREE GLASSES CHAIN

50% longer and thicker Lashes within 6-8 weeks and a fashionable glasses chain

weiterlesen

The new hair care e-book from M2 BEAUTÉ

Practical care and styling tips around the hottest hairstyle trends 2021 for you to download.

weiterlesen

PERFECT WOW BROWS WITH THE EYEBROW RENEWING SERUM

80% thicker and longer eyebrows in just 6-8 weeks and a free, stylish hand mirror.

weiterlesen

The HAIR ACTIVATING SERUM and an exclusive comb as a gift for you

Available now: The exclusive, limited edition of the HAIR ACTIVATING SERUM comes now and for a short time only with a designer comb. This combination is guaranteed to make your hair spring-ready in just a few weeks.

weiterlesen

DAS NEUE STYLE AND CARE SET

Für perfekt geschwungene Augenbrauen und volle dunkle Wimpern. Das neue STYLE AND CARE SET bietet die ideale Kombination aus Styling und Pflege.

weiterlesen

BLACK NANO MASCARA NEWS

NEU – die revolutionäre BLACK NANO MASCARA bietet den optimalen Mix aus Wachstum, Pflege und Style.

weiterlesen