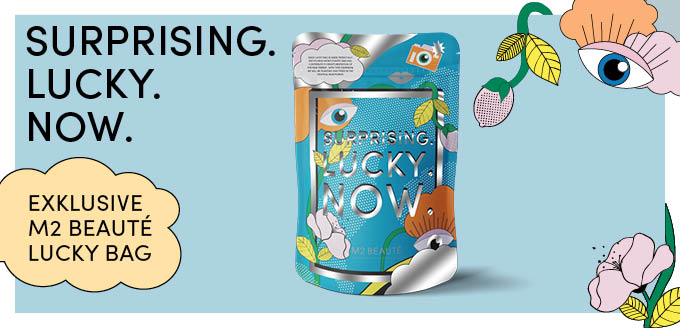 THE NEW M2 BEAUTÉ PROMOTION WITH EXCLUSIVE LUCKY BAG




Good for hair, good for the environment - the new promotion cares for hair and eyebrows while protecting the environment. This is made possible by the mix of effective active cosmetics and an international sustainability project. Every

HAIR ACTIVATING SERUM

or

EYEBROW RENEWING SERUM

purchased comes with a Lucky Bag in trendy eco-design, which not only contains lots of great surprises, but also contributes to the reforestation of the rainforest.




Store and do good - The rainforest has many functions. Among other things, it can absorb large amounts of carbon dioxide (CO2), which has a positive effect on the climate. Therefore, it is important to preserve the rainforest and counteract its destruction through reforestation. As part of the Lucky Bag promotion, we are actively supporting environmental, climate and species protection and planting over 1,000 trees in the tropical rainforest.




Get lucky - The limited promotion not only supports the rainforest project, but also scores with lovingly designed giveaways: In addition to a small notepad, the decorative goodie bags contain stickers and a stylish hair band that can also be worn as a bracelet. Customers can also look forward to a prize code: among other things, they can win a one-year subscription to HAIR ACTIVATING SERUM, EYELASH ACTIVATING SERUM or EYEBROW RENEWING SERUM.




Three highly efficient M2 BEAUTÉ power growth serums with wow effect!
Weitere News
M2 BEAUTÉ WINS AWARD FOR "MEN'S PRODUCT OF THE YEAR 2021"

THE HAIR ACTIVATING SERUM HAS BEEN AWARDED AS THE BEST MEN'S PRODUCT OF THE YEAR 2021 AND HAS BEATEN NUMEROUS INTERNATIONAL COMPETITORS.

weiterlesen

LIMITED SUMMER EDITION OF THE EYELASH ACTIVATING SERUM WITH A FREE GLASSES CHAIN

50% longer and thicker Lashes within 6-8 weeks and a fashionable glasses chain

weiterlesen

The new hair care e-book from M2 BEAUTÉ

Practical care and styling tips around the hottest hairstyle trends 2021 for you to download.

weiterlesen

PERFECT WOW BROWS WITH THE EYEBROW RENEWING SERUM

80% thicker and longer eyebrows in just 6-8 weeks and a free, stylish hand mirror.

weiterlesen

The HAIR ACTIVATING SERUM and an exclusive comb as a gift for you

Available now: The exclusive, limited edition of the HAIR ACTIVATING SERUM comes now and for a short time only with a designer comb. This combination is guaranteed to make your hair spring-ready in just a few weeks.

weiterlesen

DAS NEUE STYLE AND CARE SET

Für perfekt geschwungene Augenbrauen und volle dunkle Wimpern. Das neue STYLE AND CARE SET bietet die ideale Kombination aus Styling und Pflege.

weiterlesen

BLACK NANO MASCARA NEWS

NEU – die revolutionäre BLACK NANO MASCARA bietet den optimalen Mix aus Wachstum, Pflege und Style.

weiterlesen

DAS EYELASH ACTIVATING SERUM UND DAS EYEBROW RENEWING SERUM IN DER STYLISHEN SUMMER EDITION.

Die Bestseller kommen im sommerlichen Gewand. Exklusiv und nur für kurze Zeit! Gratis dazu - ein hochwertiges Schmuckstück.

weiterlesen