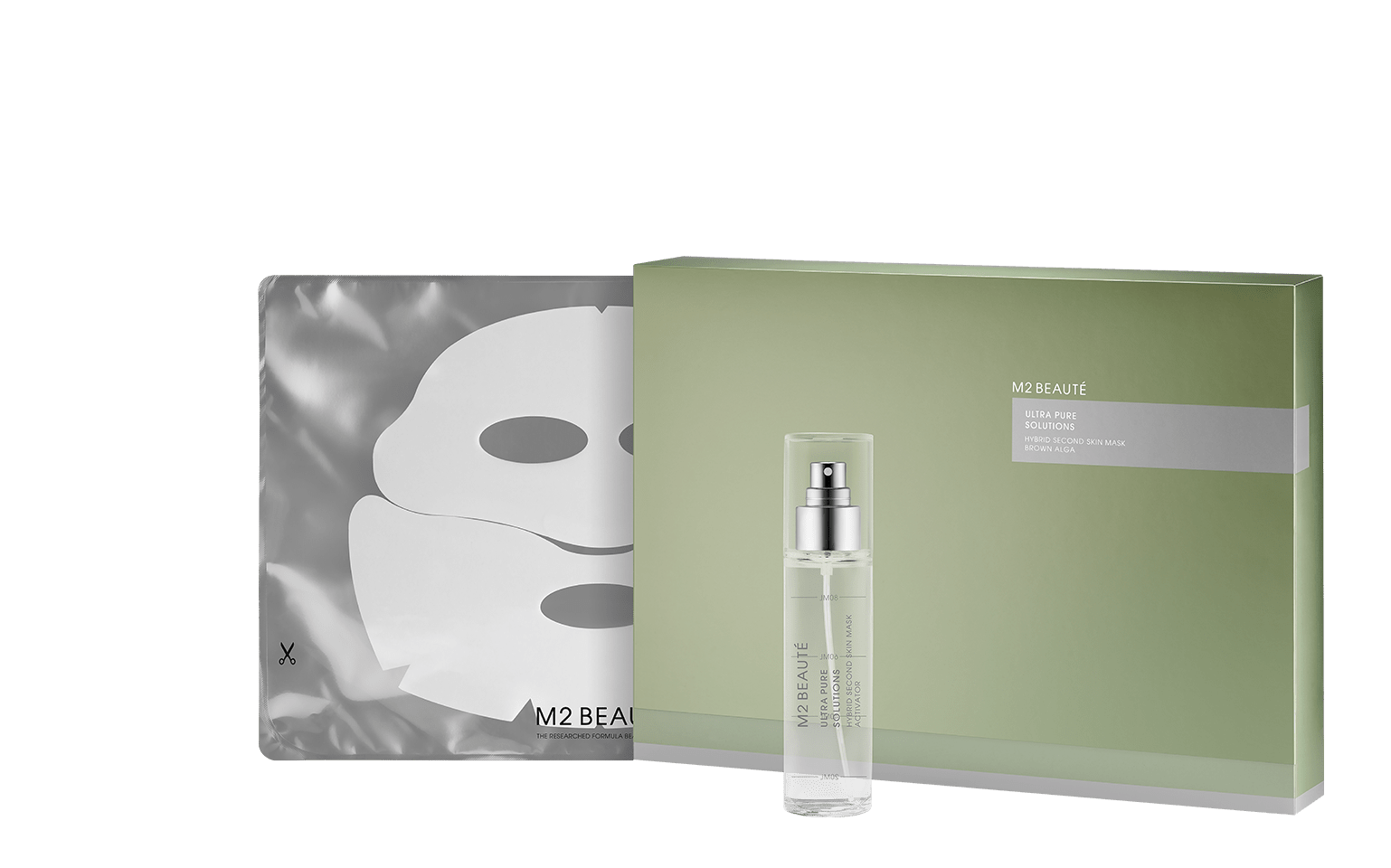 FACIAL CARE
HYBRID SECOND SKIN MASK BROWN ALGA
The Skin Contourist
HYBRID SECOND SKIN MASK
BROWN ALGA
from the ULTRA PURE SOLUTIONS line offers a relaxing and luxurious home spa experience. The highly efficient active ingredients - a brown algae extract, which is also the carrier material, and a valuable mineral complex of
calcium
and
sodium
- ensures firm, vital & hydrated skin.
Product description
The deep-acting face mask intensively moisturizes the skin, plumps up wrinkles and revitalizes the complexion.

The face mask consists of bioactive components that are activated directly on the skin with Ultra Pure Water. In doing so, the mask lays on the face like a second skin. The contained mineral complex of brown algae thus directly reaches the deeper layers of the epidermis and specifically improves skin density and firmness.
Brown algae improves skin density and volume. Calcium ions push cell division for revitalized and regenerated skin. Sodium ions stimulate aquaporin production for deeply moisturized skin. In a clinical study, the following results were achieved after only 20 minutes:
Reduction of wrinkle depth by 49%
Improvement of skin hydration by 60%
Unlike masks that are pre-soaked with an active ingredient liquid, the SECOND SKIN MASK BROWN ALGA is activated only directly on the skin by wetting with ultra pure, slightly alkaline water. The face is cleansed and dried before the upper part of the face is wetted with the activator (Ultra Pure Water) and the first half of the mask is applied. The lower half of the face is treated in the same way. The face is then wetted once again until the mask is completely saturated. After a minimum of 10 to a maximum of 15 minutes, the mask can be removed from both parts of the face and a skin care product suitable for the skin type can be applied.

Tip: Use every 3rd day for heavily stressed skin.
MASK: ALGIN, CELLULOSE GUM, GLYCERIN, CALCIUM SULFATE, CAPRYLIC / CAPRIC TRIGLYCERIDE, CITRIC ACID, SORBITOL

ACTIVATOR: AQUA, PENTYLENE GLYCOL
FAQs
Would you like to know more about our innovative products? You are absolutely right here!
We have compiled and answered the most frequently asked questions for you.
The ULTRA PURE SOLUTIONS HYBRID SECOND SKIN MASK BROWN ALGA is a luxurious face mask. The patented production process – ADVANCED CRYOSAFE METHOD – unlocks the full performance potential of the highly effective brown alga, giving you bioavailable skin benefits in short application times. Your skin is left visibly invigorated, clearly smoothened out and intensely hydrated.
Active ingredient and carrier material are combined in one face mask, which is unrivaled in the cosmetics market. It is made up of sustainably cultivated brown alga and is moistened with the activator right before application. Your skin benefits from an immediately visible and long-lasting effect. After 15 to 20 minutes of exposure time, your skin looks revitalized and the signs of aging are visibly reduced. Cellular activity is proven to increase for up to 14 days, delaying skin aging. In this period, your skin also gets more out of each part of your skincare routine.
The application method is professional and innovative. First, cleanse and dry your face. Moisten your skin with the activator (ultra-pure water) and apply the mask. Now fully activate the brown alga. Around 20 ml is recommended, which is indicated by the scale on the activator. Tip: Gently press down on the mask. The mask can be removed after just 10 to 20 minutes. Enjoy the impressive effect!
We believe that animal testing is an unnecessary testing method that does not have a place in the 21st century. M2 BEAUTÉ uses scientific research techniques that do not test on animals. From one year to the next, cutting-edge in vivo and in vitro methods are also providing improved alternatives, allowing us to achieve significant progress.
The answer to this question is unreservedly yes.
The HYBRID SECOND SKIN MASK BROWN ALGA contains five individual applications as well as 100 ml of activator fluid (20 ml of ultra-pure water per application). The mask can be applied as needed or as a regenerative treatment around every three days.
The first results are instantly visible after application: All traces of tiredness and stress disappear, skin is left looking smooth and relaxed, and there is a clear contouring and revitalizing effect. A clinical study showed that the depth of wrinkles was reduced by 49% and skin moisture levels were improved by 60%. The results were measured after just 20 minutes.
Our promise
No Parabenes
Choosing beauty products without parabens means avoiding potentially harmful preservatives. Keep your skin and health safe with paraben-free options!
No hormones
Entscheiden Sie sich für M2 Beauté, wenn Sie hormonfreie, sichere und wirksame Produkte suchen, die nachweislich das natürliche Gleichgewicht Ihrer Haut und Haare bewahren.
No silicone
Say goodbye to harmful additives and benefit from effective ingredients that nourish, protect and rejuvenate skin and hair with our silicone-free products.
No animal-testing
Bei M2 BEAUTÉ werden keine Produkte an Tieren getestet. Wir vertrauen auf tierversuchsfreie und innovative Methoden, um die höchste Qualität und Wirksamkeit unserer Produkte zu gewährleisten.