GRAPHIC EYE MAKE-UP WITH "WOW BROWS"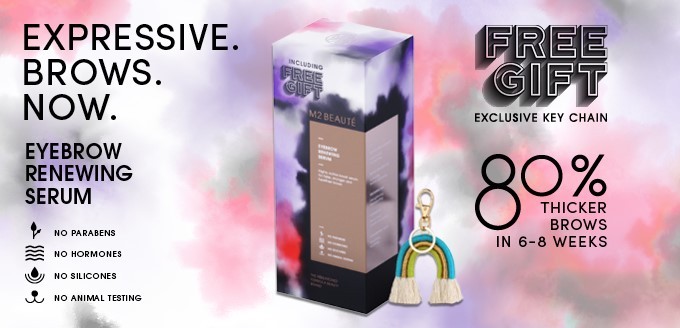 Graphic eye make-up is the latest trend for spring 2022. Instead of the usual full make-up look, creatively applied eyeshadow is set to create sensational highlights in 2022. Popular looks include twin arcs, curved lines and other striking eyeliner designs. And feel free to experiment with kohl pencil colors other than black! Beautifully shaped eyebrows are an absolute must-have to complement your graphic eye make-up!
EXPRESSIVE "WOW-BROWS" – HOW IT WORKS

Our innovative EYEBROW RENEWING SERUM, which is available right now in a trendy gift box with a fashionable macramé keychain, adds that final touch to any spring look. In just six to eight weeks, the highly efficient eyebrow growth serum achieves 80% thicker, more noticeable and naturally contoured eyebrows that can be easily adapted to suit any styling trend.
Its highly effective active ingredient and care formula containing all-natural sea rod oil promotes the average growth of fine hairs and stimulates the hair root over the long term. It regenerates sparse or over-plucked eyebrows and opens up whole new styling options to give your face more definition. For a naturally beautiful and varied look – with zero make-up.
FEATHERING VERSUS 90s THIN BROWS
Whether feathery light or narrow and perfectly contoured, defined eyebrows create a highly expressive look. Feathered brows have long been a favorite in the beauty world and are extremely easy to style. To achieve this look, comb and shape your eyebrows in feathery strokes using, for example, a spoolie brush, fill in any gaps using an eyebrow pencil and then use eyebrow gel or styling wax as a fixative.

The 90s thin brow is back in style, but instead of being simply plucked super-thin like they were back in the 90s, now they get thinner and thinner towards the end. To get this look, pluck your eyebrows to achieve the desired shape and then use a brush and gel to create the fine definition.
Weitere News
M2 BEAUTÉ WINS AWARD FOR "MEN'S PRODUCT OF THE YEAR 2021"

THE HAIR ACTIVATING SERUM HAS BEEN AWARDED AS THE BEST MEN'S PRODUCT OF THE YEAR 2021 AND HAS BEATEN NUMEROUS INTERNATIONAL COMPETITORS.

weiterlesen

LIMITED SUMMER EDITION OF THE EYELASH ACTIVATING SERUM WITH A FREE GLASSES CHAIN

50% longer and thicker Lashes within 6-8 weeks and a fashionable glasses chain

weiterlesen

The new hair care e-book from M2 BEAUTÉ

Practical care and styling tips around the hottest hairstyle trends 2021 for you to download.

weiterlesen

PERFECT WOW BROWS WITH THE EYEBROW RENEWING SERUM

80% thicker and longer eyebrows in just 6-8 weeks and a free, stylish hand mirror.

weiterlesen

The HAIR ACTIVATING SERUM and an exclusive comb as a gift for you

Available now: The exclusive, limited edition of the HAIR ACTIVATING SERUM comes now and for a short time only with a designer comb. This combination is guaranteed to make your hair spring-ready in just a few weeks.

weiterlesen

DAS NEUE STYLE AND CARE SET

Für perfekt geschwungene Augenbrauen und volle dunkle Wimpern. Das neue STYLE AND CARE SET bietet die ideale Kombination aus Styling und Pflege.

weiterlesen

BLACK NANO MASCARA NEWS

NEU – die revolutionäre BLACK NANO MASCARA bietet den optimalen Mix aus Wachstum, Pflege und Style.

weiterlesen