PEARL POWDER
The bio-technologically prepared PEARL POWDER used by M2 BEAUTÉ finds its scientific origin in natural pearl powder and covers a rich array of effects. The substance contains, among others, c. 20 amino acids and a large number of minerals – especially
calcium
. Due to this precious composition, pearl powder has already been in use for centuries in various cultural groups in order to promote health and youthful vitality and to beautify the skin.
PEARL POWDER is good for the beauty of the skin in many ways. It not only provides healthy, smooth and elastic skin, but it also lends it a wonderful glow.
The ability of the powder to regulate the body's production of melanin leads to clear reduction in pigment disorders - an even, youthful looking skin is the result.
BENEFITS FOR THE SKIN
If you are concerned with the exact effect, PEARL POWDER sti- mulates the communication and distribution between cells, and, as has been proved, regenerates the moving cells in the connective tissue. Moreover, it boosts the production of
collagen
and thus helps in reduction of wrinkles by tightening the skin.
The mother-of-pearl in mussels contains a particularly valuable substance for the skin: Conchiolin is a complex protein, which is converted in the skin into
collagen
and binds itself with epidermal fats, which play an important role for the fat/moisture balance of the skin. Thus, it forms a useful barrier which retains the moisture in the skin and brings a unique glow to the skin. At the same time, it repairs damaged skin cells, giving them intense moisture and stimulates skin metabolism.
Another important function of conchiolin concerns the increase in activity of a few particularly valuable anti-oxidants such as superoxide dismutase - SOD and gluthanion. In this way, the substance effectively slows down the ageing process and neutralises free radicals that damage cells. 
TIGHTENING | LUMINOUS | REMINERALISING | BRIGHTENING (HEALTHY GLOW)
CONTAINED IN: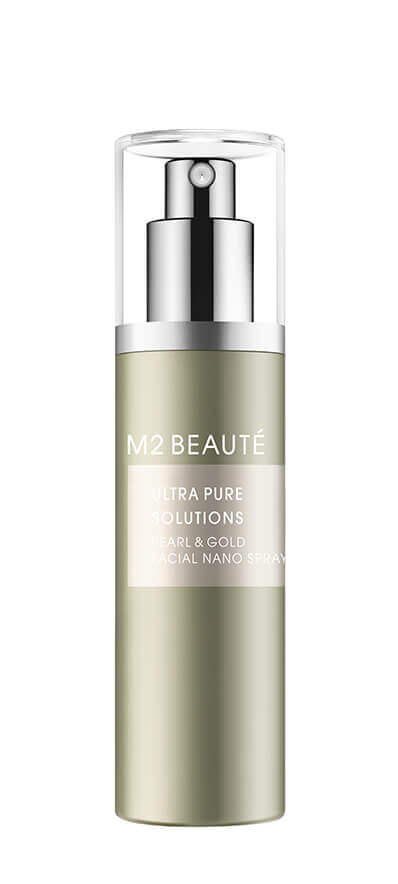 ULTRA PURE SOLUTIONS PEARL & GOLD FACIAL NANO SPRAY
The skin glorifier by M2 BEAUTÉ: The ULTRA PURE SOLUTIONS PEARL & GOLD FACIAL NANO SPRAY holds the beauty secret for younger-looking skin. The highly effective active ingredient particles, concentrated using nanotechnology, can penetrate the deepest layers of the skin, where they have a targeted effect. Pearl powder restructures the connective tissue and normalizes melanin production, thereby balancing out visible imperfections in the skin. Gold gives the skin a radiant appearance, locks in moisture and has a regenerative effect.