GOLD
GOLD is one of the most malleable and flexible precious metals and has been used for centuries in the fields of medicine, cosmetics and personal care. The beautifying characteristics of GOLD were already known to mankind in ancient Egypt, and Japanese geishas also used its decorative advantages for their own purposes.
BENEFITS FOR THE SKIN
Tiny particles of gold in care and cosmetic products generate wonderful light reflexes on the skin, which makes it appear more vital and youthful. However, GOLD can display its favourable effects not only on the skin but even within it. Among others, it promotes micro-circulation, which again accelerates the cellular processes and activates regeneration of the skin. Cellular damage can be reduced in this way. In addition, GOLD has excellent hygroscopic qualities and simultaneously, it is also anti-bacterial, and it is also used in treating blemished skin. What needs to be highlighted in particular is the fact that the active agent not only stimulates the formation of skin-tightening
collagen
, but also slows down the decay of
collagen
and
elastin
, which leads to considerable improvement in the skin elasticity.
REGENERATING | HYGROSCOPIC | ANTI-OXIDANT | ANTI-BACTERIAL
---
GOLD - FAQs
---
Kleine GOLD-PARTIKEL in Pflege- und Kosmetikprodukten erzeugen wundervolle Lichtreflexe auf der Haut, die diese vitaler und jugendlicher erscheinen lassen.
Kosmetische Präparate mit GOLD fördern unter anderem die Mikrozirkulation, was wiederum den zellulären Prozess beschleunigt und die Regeneration der Haut aktiviert. Zellschäden können auf diese Weise vermindert werden. Zudem hat GOLD eine sehr gute Feuchtigkeitsbindefähigkeit und wirkt gleichzeitig antibakteriell; es wird unter anderem bei der Behandlung unreiner Haut eingesetzt. Besonders hervorzuheben ist die Tatsache, dass der Wirkstoff nicht nur die Bildung von hautstraffendem Kollagen stimuliert, sondern auch den Kollagen- und Elastin-Abbau verlangsamt, was zu einer deutlichen Verbesserung der Hautelastizität führt.
Epikutantests (Allergietest) verschiedener Institute haben gezeigt, dass GOLD hinsichtlich möglicher hautreizenden Wirkung als unbedenklich einzustufen ist.
CONTAINED IN: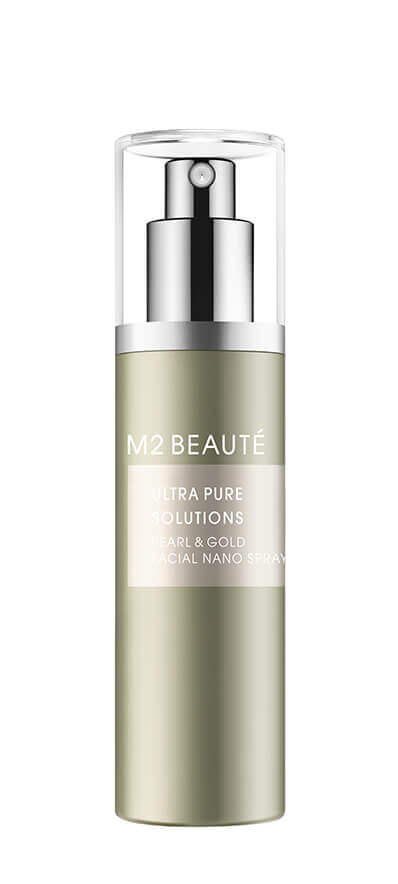 ULTRA PURE SOLUTIONS PEARL & GOLD FACIAL NANO SPRAY
The skin glorifier by M2 BEAUTÉ: The ULTRA PURE SOLUTIONS PEARL & GOLD FACIAL NANO SPRAY holds the beauty secret for younger-looking skin. The highly effective active ingredient particles, concentrated using nanotechnology, can penetrate the deepest layers of the skin, where they have a targeted effect. Pearl powder restructures the connective tissue and normalizes melanin production, thereby balancing out visible imperfections in the skin. Gold gives the skin a radiant appearance, locks in moisture and has a regenerative effect.