VITAMIN C
It is universally known that foodstuffs with a high content of VITAMIN C are healthy and reinforce defence mechanisms. By consuming only foodstuffs and food supplements that contain VITAMIN C, the vitamin often reaches, but only in insufficient concentration, into our outer shell – the skin. Hence, care agents enriched accordingly are of great benefit and their effect must not be underestimated. Particularly in the context of skin care, VITAMIN C is a true all-rounder!
However, what needs to be noted is that VITAMIN C is not equal to VITAMIN C – especially in skin care products, different types or derivatives of VITAMIN C are often used, which merely have a moderate effect on the skin. L-ascorbic acid has been proved to be one of the most effective forms of VITAMIN C in skin care.
BENEFITS FOR THE SKIN
VITAMIN C acts as an extraordinarily powerful antioxidant and neutralises the free radicals that cause oxidative stress and thus, damage our skin. However, this is not enough: With increasing age as well as by the effects of solar radiation and other external influences, the production of collagen in the skin gets decelerated, which ultimately leads to the formation of wrinkles. L-ascorbic acid demonstrably stimulates the formation of collagen and lends texture to the skin in this way, supports its firmness and minimise the initial wrinkles as well as deeper lines.
At the same time, VITAMIN C inhibits inflammation and thus, reduces irritations on the skin. Healing of the skin gets impro- ved, since the vitamin fortifies the skin repair mechanism and the resistive force of the skin. In fact, VITAMIN C can reduce pigment spots by inhibiting excessive formation of melanin. In addition, the loss of moisture in the skin gets reduced. 
ANTI-OXIDANT | REPAIRING | VITALISING | BRIGHTENING
CONTAINED IN: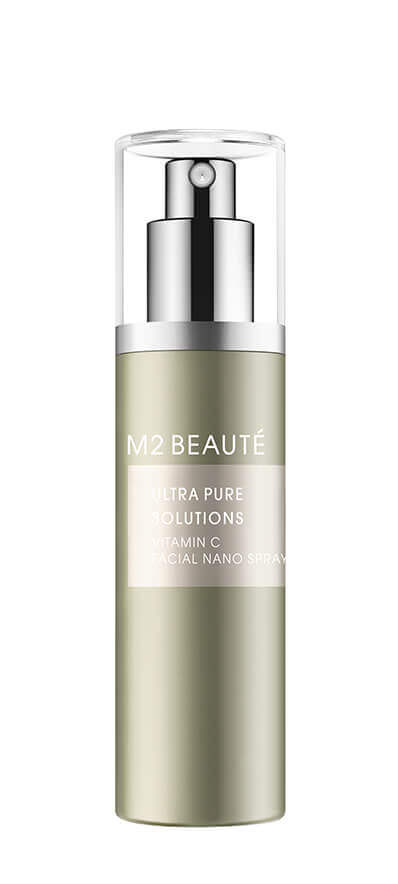 ULTRA PURE SOLUTIONS VITAMIN C FACIAL NANO SPRAY
ULTRA PURE SOLUTIONS VITAMIN C FACIAL NANO SPRAY supplies the skin with highly concentrated vitamin C, nourishing it with maximum moisture. It regenerates skin cells with a deep penetrating effect, protecting them against free radicals and making them stronger. The result: A radiantly fresh and smooth complexion.