The new hair care e-book from M2 BEAUTÉ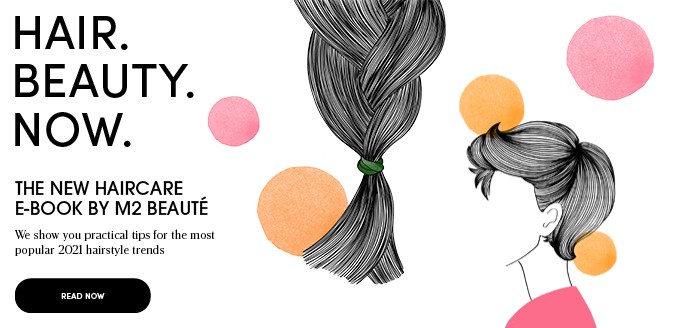 The new hair care e-book from M2 BEAUTÉ.
From the fashionable French bob to the short-stepped Pixie cut to seductive beach waves in boho style - in our M2 BEAUTÉ hair care
E-book
we tell you which hairstyles will be particularly trendy in 2021, which cuts are best suited to your hair and how to style your new haircut in line with the latest trends. In addition, the
E-book
contains many valuable hair care tips that are individually tailored to different hair types and needs.
THE MOST BEAUTIFUL STYLING IDEAS
Fancy a little change of style? Whether your hair is short or long, thin, curly or coloured - with our hair care e-book, your new dream hairstyle is just a few clicks away. Simply
download
, choose your favourite hairstyle and head off to the hairdresser. Especially practical: The matching styling tips are included and have been individually compiled for you by our professional M2 BEAUTÉ hair stylists. In our
E-book
, we are going to show you what you can do to keep your hair looking healthy and well-groomed.
Weitere News
M2 BEAUTÉ WINS AWARD FOR "MEN'S PRODUCT OF THE YEAR 2021"

THE HAIR ACTIVATING SERUM HAS BEEN AWARDED AS THE BEST MEN'S PRODUCT OF THE YEAR 2021 AND HAS BEATEN NUMEROUS INTERNATIONAL COMPETITORS.

weiterlesen

LIMITED SUMMER EDITION OF THE EYELASH ACTIVATING SERUM WITH A FREE GLASSES CHAIN

50% longer and thicker Lashes within 6-8 weeks and a fashionable glasses chain

weiterlesen

PERFECT WOW BROWS WITH THE EYEBROW RENEWING SERUM

80% thicker and longer eyebrows in just 6-8 weeks and a free, stylish hand mirror.

weiterlesen

The HAIR ACTIVATING SERUM and an exclusive comb as a gift for you

Available now: The exclusive, limited edition of the HAIR ACTIVATING SERUM comes now and for a short time only with a designer comb. This combination is guaranteed to make your hair spring-ready in just a few weeks.

weiterlesen

DAS NEUE STYLE AND CARE SET

Für perfekt geschwungene Augenbrauen und volle dunkle Wimpern. Das neue STYLE AND CARE SET bietet die ideale Kombination aus Styling und Pflege.

weiterlesen

BLACK NANO MASCARA NEWS

NEU – die revolutionäre BLACK NANO MASCARA bietet den optimalen Mix aus Wachstum, Pflege und Style.

weiterlesen