TWO COVETED BEAUTY ICONS IN THE X-MAS EDITION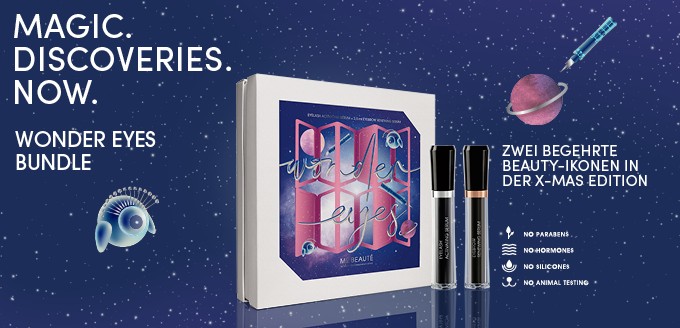 Stars twinkle, candles burn, eyes light up - thanks to M2 BEAUTÉ, the Christmas season is especially magical this year. Not to say: simply galactic!
Under the motto "MAGIC. DISCOVERIES. NOW" we have created an exclusive set that makes eyes shine like never before.
The WONDER EYES BUNDLE consists of two innovative highlight products:
The EYELASH ACTIVATING SERUM (4 ml) for beautiful, long lashes and the EYEBROW RENEWING SERUM (special size 2.5 ml) for thick, shapely eyebrows. Two beauty essentials for wonderful moments, artfully packaged in a stylish gift set.
SHOP NOW
The limited Wonder Eyes Bundle is available now in all major perfumeries, spas and concept stores for €126.00. Only while stocks last!
Weitere News
M2 BEAUTÉ WINS AWARD FOR "MEN'S PRODUCT OF THE YEAR 2021"

THE HAIR ACTIVATING SERUM HAS BEEN AWARDED AS THE BEST MEN'S PRODUCT OF THE YEAR 2021 AND HAS BEATEN NUMEROUS INTERNATIONAL COMPETITORS.

weiterlesen

LIMITED SUMMER EDITION OF THE EYELASH ACTIVATING SERUM WITH A FREE GLASSES CHAIN

50% longer and thicker Lashes within 6-8 weeks and a fashionable glasses chain

weiterlesen

The new hair care e-book from M2 BEAUTÉ

Practical care and styling tips around the hottest hairstyle trends 2021 for you to download.

weiterlesen

PERFECT WOW BROWS WITH THE EYEBROW RENEWING SERUM

80% thicker and longer eyebrows in just 6-8 weeks and a free, stylish hand mirror.

weiterlesen

The HAIR ACTIVATING SERUM and an exclusive comb as a gift for you

Available now: The exclusive, limited edition of the HAIR ACTIVATING SERUM comes now and for a short time only with a designer comb. This combination is guaranteed to make your hair spring-ready in just a few weeks.

weiterlesen

DAS NEUE STYLE AND CARE SET

Für perfekt geschwungene Augenbrauen und volle dunkle Wimpern. Das neue STYLE AND CARE SET bietet die ideale Kombination aus Styling und Pflege.

weiterlesen

BLACK NANO MASCARA NEWS

NEU – die revolutionäre BLACK NANO MASCARA bietet den optimalen Mix aus Wachstum, Pflege und Style.

weiterlesen

DAS EYELASH ACTIVATING SERUM UND DAS EYEBROW RENEWING SERUM IN DER STYLISHEN SUMMER EDITION.

Die Bestseller kommen im sommerlichen Gewand. Exklusiv und nur für kurze Zeit! Gratis dazu - ein hochwertiges Schmuckstück.

weiterlesen